NPS Press Release - Revised Bicycle Plan Allows Greater Access to National Parks May 17 2015

The National Parks and Federal Recreational Lands Pass


Interior Seeks Public Comment on Draft List of 35 Minerals Deemed Critical to U.S. National Security and the Economy Read Press Release - Feb 2018

In accordance with President Donald J. Trump's April 26, 2017, Executive Order, U.S. Secretary of the Interior Ryan Zinke released the final report outlining recommendations he made to the President on some national monument designat​ions under the Antiquities Act. (Read the DOI news release)

As a fifth-generation Montanan who grew up in a logging and rail town near Glacier National Park, Zinke has had a lifelong appreciation for conserving America's natural beauty while upholding Teddy Roosevelt's vision of multiple-use on our public lands. (Department of Interior News Release) Rockhounds may have a chance!

On Saturday, April 30 – National PrepareAthon! Day

Transcription of DoI Secretary Sally Jewell (PDF) The future of conservation – a major course correction
April 19, 2016 2:00 PM EDT

Doc Hastings Releases Peer Review Process for ESA Listing Decisions

Neuter your Dogs and Cats! - Soon you will be required to neuter your pet Desert Tourtise... Are they really endangered? August 12, 2014

JURISDICTION IS THE SOLUTION - A simple, clear, authoritative, and compelling argument for States to immediately assume control of their lands. This short white paper sets aside, for the moment, the issue of "land transfer," and focuses solely on Jurisdiction. Kirk MacKenzie of DFA

Press Release - PARKING FEES IN NATIONAL FORESTS STRUCK DOWN - AGAIN April 30, 2014 Kitty Benzar of Western Slope - No-Fee Coalation



Access Denied - Closing Our Forests This youtube quickie is excellent for educating the public on what is happening to our public lands and our recreational opportunities. It takes a few minutes to watch it but the information here is very well done and explains how and why you are losing your right to recreate on public lands. Take the time to view it and then send it on to everyone you know who could use a little educating. Pass it on and on and on.
/www.youtube.com/watch?v=0kUhLMi97dg


DENVER, CO (October 24, 2011)--Recreation access advocates expressed disappointment with the recent decision of the U.S. Tenth Circuit Court of Appeals reinstating the 2001 Roadless Rule. That decision was issued on October 21, 2011 by a three-judge panel over eighteen months after the case was argued. Their 120-page opinion disagreed with the... Read more...

Roads and Trails banded on nearly 50 million acres of your public land!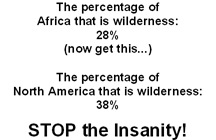 "Recreational miner rescued from pit" (Bakersfield Californian, 4/9/12)
Firefighters rescued the man, "who suffered major injuries when he became trapped in a pit near Randsburg in eastern Kern County" when a "side wall ... caved in on him." The man "was dry mining a 3- or 4-foot-deep open pit when dirt and rocks sloughed off a wall and trapped him," a Kern County Fire Department spokesman said. "About 10 firefighters from Randsburg and Ridgecrest used tools including shovels" to get him out. The pit was "in a popular prospecting area" near Duisenburg mining camp.
www.bakersfieldcalifornian.com/local/x1322082818/Recreational-miner-rescued-from-pit



"Sagebrush Rebellion" Suffers Setback

Hage Forage Right Trial Ends - "Sagebrush Rebelion" may be over!

Administration Caves to Special Interests - Bans Mining

Why aren't public lands handicapped-accessible?

The Economic Costs of Wilderness - October 25, 2011

FOREST-PLANNING-RULE: Proposed Planning Rule Released for Public Comment

Court Rules on Idaho Forest Travel Management Plan

Articles on Land Use Issues by Varied Authors NEW LINK

Treasured Landscapes - Just released August 10, 2010

More on The Great American Outdoors Initiative 2010

"Latest Information from USGS on Deepwater Horizion Disaster"

2010 - An explosion on the Deepwater Horizon oil platform, leased by BP, killed 11 workers and caused a blow-out that began spewing an estimated 200 million gallons of crude into the Gulf of Mexico. (The well was finally capped nearly three months later, on July 15.)