By way of introduction, the Oregon Council represents 16 clubs statewide whose 1535 members enjoy recreational rockhounding on our public lands. Our mission is to advocate for access to collection areas and promote stewardship of the resources at these sites. As part of our stewardship efforts, we adhere to the AFMS Code of Ethics which prescribes a set of guidelines for responsible rockhounding. Two important elements of the Code state:

• I will fill all excavation holes which may be dangerous to livestock.
• I will appreciate and protect our heritage of natural resources.

In order to advance the aims of these guidelines and implement the stewardship component of the Council's mission statement, we were looking for projects which would allow us to get some "Boots on the Ground". Our search resulted in a club member directing our attention to the Hampton Butte petrified wood site in central Oregon which has been extensively impacted by surface collection activities. A field inspection of the site with BLM staff revealed numerous shallow excavations which had not been filled. The affected area covered several acres open to both livestock and game. As the result of these observations, the Council decided to sponsor a remediation work party to address surface disturbance at the site. On September 28, 2019 eleven club members and three BLM staff met at Hampton Butte to fill as many of the digs as time allowed. This date was selected to coincide with National Public Lands Day. After a day's hard work and several changes in the weather, we were able to fill twenty to thirty excavations covering approximately ¼ acre. Our volunteers and BLM personnel were very pleased with the degree of participation and the amount of ground we were able to cover. Below are several pictures of the crew in action.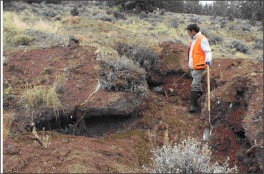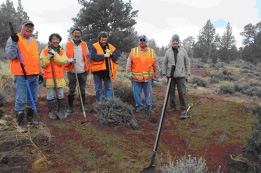 Although we were only able to mitigate a small portion of the Hampton Butte collection area, we made a great start and developed a good working relationship with the local BLM staff. The Council is currently pursuing a formal partnership agreement with the BLM Prineville office and we are hoping to secure a permit to use a small garden tractor for future work.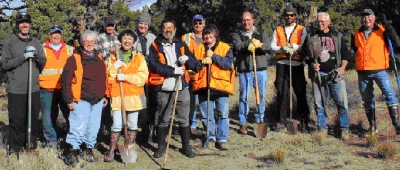 At a minimum, we want to make these remediation projects an annual or bi-annual event. As part of an educational outreach program, the Council is also looking at posting signage with the AFMS Code at various rockhounding locations. We also hope individual clubs will conduct "fill and level" projects for some of their local dig sites. I know my club, the Umpqua Gem & Mineral Club here in Roseburg, had a very successful work party to help restore one of our popular collection areas.

I want to thank all the volunteers from our member clubs who made the time to help out with this effort. I particularly wish to acknowledge Hidemi Kira for initially suggesting the Hampton Butte area for our first project. Last but certainly not least, thanks to the three BLM staff, Tom Beaucage, Michael Anderson and Kevin Weldon who made a significant contribution to our endeavor.